Welcome to the Bujinkan Reiyo Dojo!
We are not a commercial dojo, we are a small non-commercial training group.  We are the oldest Bujinkan training group in the Sacramento area.  Our group was established in 1986.  We are focused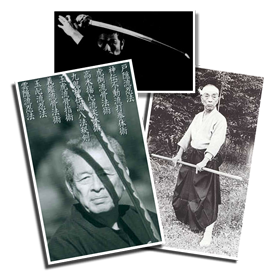 on transmitting the 9 martial traditions of Bujinkan Budo Taijutsu / Ninpou Taijutsu as headed by Grandmaster Masaaki Hatsumi.  We strive to stay true to form as taught in Japan without a lot of western ideologies injected into the training as per our understandings.
Our class sizes tend to be very small as we are not out to commercialize ourselves.  We believe in the quality of the participants rather then quantity.  We do not do tournaments, or championships nor are we a "belt factory".  Competition among students or other training groups is highly frowned upon.  We are focused in on preserving the 9 Bujinkan traditions, we are not out to prove ourselves.  Our classes are structured as so that we all work together and help one another out for the common goal of striving to gain further knowledge/insight into this art.
The lessons of the Bujinkan are not meant to be for hobbyists or "Weekend Warriors". The Bujinkan and its teachings are meant to be integrated into our everyday lives in everything we do, not apart from it.  We are a total combat/life system.
Our training group is open to anyone over 18 that has an open mind/heart, that does not have a criminal record, and possesses a true desire to learn this art.  If you have the desire to prove yourself, fight or a desire to gain a competitive edge in another art through our art, we are not the place for you and you will probably be asked to leave.  
If we sound like a good fit for you, then we welcome you to join us.
Please take the time to look around our website and check back often for potential updates.
If you have any further questions about us, our classes or you wish to join us, feel free to Contact Us!